Spaceship Kanban @ Kniff
Imagine this: a bunch of crazy and nice people with a mission to create wonderful pictures in motion or in stills. High market dynamics, high complexity, chaos, fun. We found out, that the process is lacking transparency and the amount of work bigger than our actual capacity can handle – it's stressful sometimes.
This is an example to use Kanban the method in a non-IT-Enviroment. An enviroment where complexity and dynamics are very high.
Why Kanban?
pain in "peak times" – many projects to be completed in a very short amount of time

high complexity: 12 people working on stuff, only a few people try to have an overview over the current work situation

working over capacity in peak times

more communication to coordinate our work, more transparency in the workflow
Challenges:
to implement a system which supports us in coordinating our peak times

to learn about our capacity

to have a system where everyone is involved and feels attracted by its value for the team to participate

to create something that meets our core values: successful, like a family, team friendly, solution driven, flexible, honest, reliable – okay and we are a bit crazy guys here 🙂
The whole system was developed in collaboration with Isabel Thoma a friend of us and product designer. Our mission: Let's create a flexible Kanban system that looks awesome and indicates a certain kniff 😉 
Let's have a closer look at the implementation – we will use the Kanban Core Practices for that.
Visualize your work 
We chose an abstract spaceship theme. One spaceship is made out of modules. Every module is equal in size and shape. The final shape of the module was deducted from a table design by Natalie Weinmann which she developed for us (hooray!!). With a magic estimation session we discovered 4 major sizes of projects. Each size is now visualized with the amount of modules. Smallest size = 1 module; Xtra Large Size = 4 modules.

Every ship has a captain and a crew – the colour of the ship indicates the captain of the ship. The captain is responsible to guide his ships through our workflow. The captain also has the duty to design the ship – you will be surprised how many different designs are possible with our modules 😉
The crew members are added as coloured dots. Every team member has its own colour.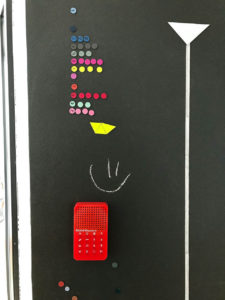 The ships fly through a kind of space station and have to pass gates with checkpoints (equals coloumns, Defintion of Ready and Defintion of Done). The Workflow starts in the Orbit where projects are in an acquisition phase. It ends in the open space – approved by our customer and archived at our systems. In beetween you can find typical steps in producing photography or motion pictures (pre-, production, post production – but our names are way cooler ;)).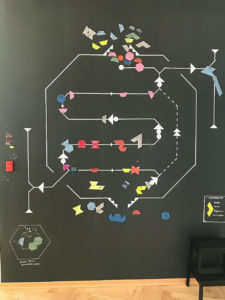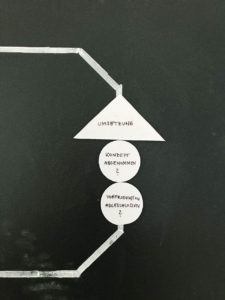 The black hole:
everytime we do not get a projects it will be swallowed by the black hole (down in the left corner of the wall).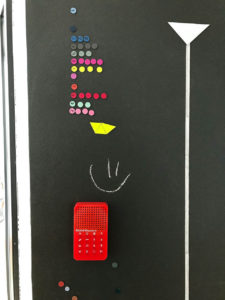 The Sound Machine is guiding the process and can underline comments and project during our daily standups – very important tool 😉
Limit Work in Progress (WiP)
WiP is limited by the space between the gates and through the amount of modules. Every person has only 15 modules to design her or his ship and 5 dots to work as crew member on other ships.
Manage Flow
We have a direct visual feedback on our bottlenecks. We discuss stuff at our monthly Retrospective meetings.
I use Kanbanflow to track lead time and to have a cummulative flow chart. Let's see how we will use the data.
Make Policies explicit
Checkpoints before every gate are indicating the constraints for passing it. Crew members of the ships are added. Example Ship, Reference Stories, Crew Members, DoDs & DoRs at gates.
 
Collaborate and evolve
It is constantly changing! We discuss stuff at dailies, Retros and Future Camps!
Stay tuned 🙂